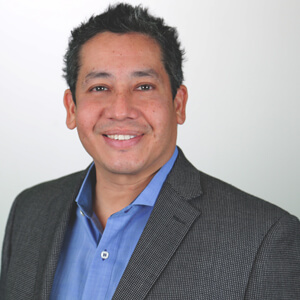 The John Chavez Team
John Chavez
In my years of mortgage banking, I've come to realize that the largest role we play as lenders is underwriting analysis. This consists of reviewing a customer's credit report, calculating income based off of the tax filings from employed and self-employed customers, as well as the assets needed to close.
Our team takes the necessary steps to collect all of this information to determine qualification upfront, ensuring a smoother road to closing. At V.I.P., these steps go a long way. We're a tight unit, working as a team with a team attitude – always there for one another. We care about the individual, not just the loan, and we are here to exceed the expectations of everyone involved in the transaction.
I have a daughter and a son that makes every day interesting. Raising them with their mother and watching their personality grow each day, there's never a dull moment.
---
Our Team
John Chavez
Mortgage Banker/Builder Services Manager
(623) 226-4000 x5647
9221 E Via de Ventura
Scottsdale, AZ 85258
Megan Mannarino
Production Manager
Megan Mannarino works with the John Chavez Team. She started with the team in 2016, when she joined the team as a transaction coordinator. After two years of being the team coordinator, she moved into the role of production manager. Megan also has her loan origination license, but serves primarily as the team's production manager. Megan is originally from the small town of South Lyon, Michigan. She spent the majority of her adulthood in the city of Ann Arbor, where she played four years of collegiate basketball at the University of Concordia Ann Arbor. Megan was a 2-year team captain, 3-year starter, and a 4-year all-academic scholar. She graduated in 2010 with honors with a Bachelor of Arts in Business Administration with a concentration in marketing. After graduating, Megan made the move to Arizona, where she quickly began her Master's Program at The University of Phoenix. She graduated in 2013 with her M.B.A.
480-525-9174
9221 E Via de Ventura
Scottsdale, AZ 85258
Janeth Valdespino
Team Loan Officer/Production Partner
Whether purchasing a dream home, or seeking financial freedom through a refinance, Janeth will be there each step of the way. Her client-centric approach and attention to detail delivers accuracy and personal financial guidance pertaining to an individual's home-buying "power". VIP Mortgage recognized her for her passion and desire to help others, granting her the Above and Beyond Award
"Buying a home is the biggest investment a family will make, and a home mortgage is not 'one size fits all.' I understand that each person's financial position is unique, which is why my priority is to inform and guide my clients through all their options and help them choose the product that best suits their individual needs."
Fluent in Spanish, Janeth enjoys working with the Hispanic community to facilitate the home-mortgage process
Janeth holds a Bachelor of Science from the College of Public Service and Community Solutions at Arizona State University. Outside of work, she is an explorer at heart – always looking to visit new parts of the world, meet new people and learn about their stories. What's your story?
480-378-3553
20 Alder Avenue, Suite 206
Sumner, WA 98390
Courtney Ng
Team Loan Officer/Production Partner
Courtney was born and raised in Glendale, Arizona and still currently resides there with her fur baby, Nala. Courtney has worked in the industry since 2015 in various roles and has become a licensed loan originator. She is very eager to learn all aspects of the business, as she enjoys being challenged and learning new tasks. Communicating with people and problem-solving are her strengths, and the reason she loves the mortgage industry. As a VIP Mortgage loan officer, Courtney's reputation is built on professionalism, integrity and the ability to keep transactions on track. She is dedicated to helping her clients obtain a mortgage that fits their specific financial goals. Courtney is passionate about helping her clients and focuses on bringing you peace of mind throughout the home financing process.
623-223-1801
9221 E Via de Ventura
Scottsdale, AZ 85258
Danny Wheeler 
Team Loan Officer/Production Partner
I spent nearly 10 years in the retail banking industry before switching to mortgages in 1999. The first year, I spent processing and underwriting, which really helped me to understand how to put a loan together.
Before joining VIP, I spent a decade or so working for smaller boutique brokers. I love that VIPs team philosophy mixes well with the lending principles I've developed over the years. I believe that communication with not only the buyer, but all parties involved in the transaction, is key to getting a loan done smoothly. I make it a priority to be involved from the initial application through funding and recording.
I enjoy spending time with my two children – Taylor and Maggie. I also love fishing with my son and cheering on the Diamondbacks.
602-620-1660
9221 E Via de Ventura
Scottsdale, AZ 85258
Mike Mader
Team Loan Officer/Production Partner
I hail from El Paso, Texas and studied at the University of Texas at El Paso, receiving my bachelor's in business marketing in 2005. After starting my career in mortgage financing and banking, I moved to Phoenix, Arizona in 2005 and worked for a large bank for five years, where I acquired skills in banking , mortgage and investments. As a licensed financial advisor, I then worked for Merrill Lynch before transitioning back into the mortgage business in 2012.
My No. 1 priority is helping my clients attain financial success. I treat each of my clients as if they were my own family, and have lived by this hands-on philosophy my entire career. By placing ethics, integrity and honesty first as my core foundation, I've found success building client trust and creating lasting successful business relationships.
When I'm not working, I enjoy spending time with my wife and two little girls – Addison and Reagan. I enjoy all sports, especially golf when time allows. And I'm a big football fan too.
480-570-2764
9221 E Via de Ventura
Scottsdale, AZ 85258
Kalea Ehinger
Administrative Assistant
480-378-337